The long awaited sequel… here we go, beer friends!
Beer drinkers beware, there are breweries all over. Look left, look right, and in one of those directions, you can head towards a brewery in your hometown! Well, at least in my two hometown cities you can!
I am originally from Kalamazoo, Michigan (yes, there really is a Kalamazoo!), but I also consider Charlotte, North Carolina home. Ergo, two hometown cities. Furthermore, two GREAT cities. No, I am not biased, this is just fact. Believe it. I do!
A few weeks ago, I covered the Kalamazoo Breweries. Today I am covering the Charlotte breweries. Ahhh Charlotte: the Queen City, the intersection of I-77 and I-85, the home of the Carolina Panthers & Charlotte Checkers & Charlotte Knights, the home of NASCAR Hall of Fame, the melting pot of +12 colleges & universities, an international flight hub, and the 2nd largest banking capitol in the USA. Quite a lot to be said for this town. And the beer presence is just getting started in full swing!


The beer scene may just be getting afloat in the numbers, but there are already quite a few awesome breweries in town, and a few more coming soon, too!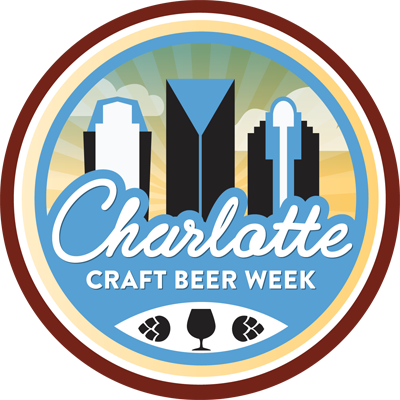 Old Mecklenberg Brewery: This South Charlotte brewery is one of the more veteran spots in Charlotte to go get your growlers and fresh-poured beer.
a) OMB Copper: an authentic Düsseldorf style "Altbier" with 4.8% ABV. Technically, OMB Copper is an ale due to the type of yeast it's made from (Obergärig or top fermenting yeast).  However, a long time ago the folks in Düsseldorf learned that by lagering their Alt for several weeks after primary fermentation they could produce a full-flavored, yet smoother and more refreshing beer. OMB uses authentic ingredients in our Copper Altbier, including expensive (but worth it) noble Bavarian hops. We also adhere to traditional, time consuming, costly decoction brewing techniques to produce this copper hued, amazingly satisfying "lagered ale."
b) Captain James Jack Pilsner: OMB developed this smooth, refreshing pilsner beer as our salute to the spirit, courage and resolve of Captain Jack and the members of the Mecklenburg Convention. A classic northern German "Pils", this straw-colored lager is smooth, with a subtle yet assertive hoppiness that doesn't overwhelm your palate or the beer's malt backbone. A perfect summer refresher. 4.8% ABV.
c) Seasonal Frueh Bock – Literally "Early" Bock, Frueh is also short for Fruehling which is the German word for Spring.  This deep golden Bock lager is malty sweet with a touch of fruity, almost citrusy notes that linger on the palate.  And although  this Helles Bock/Maibock-style beer has a higher alcohol content, it is not at all obvious to the taste.  More than a month of lagering results in a very smooth character.  Frueh is the perfect beer for those transitional days where the cold winds of winter are still battling it out with the warm breezes of spring.  6.0% ABV.
d) Seasonal Rein Pale Ale (RPA) – a cross between an American-style pale ale and a German-style lagered ale.  This distinctive ale is brewed with a combination of four different American and German barley malt varieties, spicy American Tettnang and noble Czech Saaz hops.  A beautiful light amber color, this moderately bitter pale ale is an enjoyable selection for almost any occasion.  And like all OMB beers our RPA is brewed in strict accordance with the world famous German "Reinheitsgebot" beer purity law of 1516.  That means it's all natural, with no chemicals, preservatives or cheap adjunct ingredients.  Malt, hops, water and yeast.  Nothing else.  Taste the difference!  5.2% ABV.
e) Seasonal Mecktoberfest – A classic Maerzen style amber lager.  The original Oktoberfest Bier and quintessential Ueberseasonal.  Rich and malty up front, which transitions to a smooth, satisfying finish courtesy of the noble Bavarian hops and a flavor profile produced by an outstanding  yeast strain from the oldest brewery in the world.  If there were a season for beer, fall would be it.  And for beer season, nothing beats Mecktoberfest!  5.4% ABV.
f) Seasonal Bauern Bock – This holiday "Farmer's Bock", or Country Bock as we like to call it, will be sure to instill the harvest season spirit in you.  A German-style doppelbock lager, Bauern Bock is rich and malty with a deep amber color to match the changing colors of the fall season.  It is also OMB's "biggest" beer at 7.5% ABV.
g) Seasonal Dunkel – Munich-style dark winter lager.  Smooth, with a roasted malt flavor courtesy of Dark munich and Carafa malts, Dunkel will please your palette as it warms your spirit.  It could be the perfect answer to a dark, cold winter's day.  If you're looking for a beer that has substantial body and flavor, yet remains very smooth and easy drinking, choose Dunkel.  4.9% ABV.
h) Yule Bock – This holiday treat is an authentic German-style "Weihnachtsbockbock" (Christmas Bock).  Its deep amber color with just a hint of holiday crimson is derived from a select combination of premium European barley malts.  Noble hops provide just the right balance for its pronounced malty character.  This full-bodied, malty, smooth winter lager will provide a touch of warmth to contrast the cold winter weather.  Enjoy it with friends and family this holiday season.  6.5% ABV.
NoDa Brewing Company: This is my favorite local brewery so far. Just so you know, I am biased towards them. But to be fair, I will take the comments from their site and post those, not my own, the same treatment everyone else's beers got. 😉
a) Coco Loco Porter: Chocolate and Brown malts contribute a stunningly deep rich color with ruby highlights in this Robust Porter. The slight bitterness from American chocolate is balanced with the sweet roastiness of toasted organic coconut. A great beer before, during, or after a meal! 6.2% ABV, 40 IBUs.
b) Ramble on Red: A balanced and interesting red ale that uses the unique combination of Rye malt and Belgian Special B with Northern Brewer and Challenger hops. Enjoy this beer as the start of the wild and crazy road through the world of NoDa craft brews. 5.2% ABV, 30 IBUs.
c) 10 Blocks South Xtra Pale Ale: Tired of the standard American Pale Ale? Not feeling the hop bite and higher ABV of an IPA? We have something in-between. What you get is a hop-centric but easy drinking beer with tons of citrus and floral hop character brought on by Centennial, Cascade, Columbus and Chinook hops and backed with a solid malt bill. 5.5% ABV, 56 IBUs.
d) NoDaRyeZ'd: Double Rye India Pale Ale with a solid malt backbone with a hefty amount of Rye, to further the grain bill, plus a 7 hop blend gives this beer an "American" IPA flavor and aroma but also accentuate the spiciness of the Rye. 8.65% ABV, 90 IBUs.
e) Hop, Drop 'n Roll IPA, the rich golden color comes from a blend of English and American base malts accented with substantial amounts of Vienna and Wheat malt. The American citrus hops take center stage with emphasis on late boil additions of Citra and Amarillo. This signature ale is hopped before, during, and after the boil! 7.2% ABV, 80 IBUs.
f) Midnight Madness:  This is our version of a Cascadian Dark Ale, more commonly known as a Black IPA. Made with five hop varieties: Cascade, Centennial, Columbus (Tomahawk), Chinook, and Warrior. 6.75% ABV, 71 IBUs.
g) Monk's Trunks: This Belgian pale ale utilizes traditional Belgian malts and European hops. The Belgian yeast brings flavors of apple, banana, vanilla and grapes naturally through its fermentation and accented with seeds of paradise. This blend is an intriguing palate pleaser. 5.6% ABV, 27 IBUs.
h) TriUmphant: A Belgian style Tripel brewed with all traditional Belgian malts, continental hops, Belgian yeast and enough Belgian candi-sugar to make an Umpalumpa blush. The rich esters from our Belgian yeast will fill your nose, mouth and soul with a feeling of accomplishment never seen before in a macro beer world. 9.7% ABV, 35 IBUs.
i) Ghost Hop White IPA: with the grain bill of an IPA, minus the color, and the hops of a true Northwestern IPA, all delicately fermented with Belgian Wit yeast.  It is an American IPA-Belgian love child! It has the light body and drinkability of a Belgian Wit with the Citrus & Pine flavors from the Amarillo and Centennial hops. 5.9% ABV, 70 IBUs.
Four Friends Brewing Company: this local brewery focuses on flavor and variety in their selections, and I have yet to taste one that fails to impress me.
a) i77 IPA, a 7.7% ABV crisp IPA with a hop forward nose that leads to an abundance of hop flavor on the pallate. I-77 will intrigue the hop lover who knows a quality beer and isn't afraid to challenge themselves with the bold flavors of Warrior, Chinook, Williamette, and Cascade hops.
b) Queen City Red, a deep mahogany red Ale, 6% ABV, that blends six malts in perfect harmony. Smooth and subtle yet robust and rich with flavors of coffee, malt, chocolate and toffee delicately balanced and enticing.
c) Misty Mountain Hop, a 7.8% ABV harvest ale that is well balanced, moderate bitterness and with a noticeable hop aroma which makes this ale appealing to a variety of beer drinkers from the casual pale ale lover to the serious hophead. Brewed with fresh Cascade hops grown locally in Charlotte, this truly is a home-town beer!
d) Uptown Brown Ale, a 6.6% ABV Fall ale that celebrates the sophistication and discerning taste of those that proudly call Charlotte Uptown their home. Savor the noble aroma of the Finest English Hops before dissecting the flavors that 7 carefully blended malts deliver. Experience the coffee flavors so delicately balanced with chocolate overtones as subtle hints of toasted malts flow onto the palate.
e) Dubbel D., a 8.2% ABV Fall ale that is a malt rich, spicy ale with a subtle floral nose that gives way to a multitude of rich herbal tones. This copper hued beauty is rich and robust with an explosion of flavors on the pallate that culminates into a slight alcohol warmth from its elevated gravity.
f) 24KT, a Belgian Style Golden ale with 7.2% ABV that comes out for Spring and Summer only. Whether you are winding down from a long day or winding up to get your night started "just right"; take a ride with this easy drinking Belgian blonde. Enjoy some with your friends or share a round with the person next to you and make the most of your night.
Birdsong Brewing: this local NoDa area brewery sits across the lot from NoDa Brewing, and focuses on unfiltered craft beers. Here are there current selections:
a) Free Will Pale Ale: Pale Ale designed to be sessionable and approachable for drinkers from any beer background. The beer combines traditional English hop varieties (Fuggles) as well as new American varieties (Galena) to create a floral and slightly citrusy hop aroma with a decent bitterness behind it. The malt background is just as delicate with hints of toast and honey flavors. 5.5% ABV, 45 IBUs.
b) Lazy Bird Brown Ale: It pours a mahogany brown with a noticeable lemony yet roasty aroma, which comes from a heavy amount of cascade hops at the end of the boil as well as a generous amount of roasted barley in the mash. This combination of malt and hop intricacy makes for an enjoyable beer year round. 5.5% ABV, 45 IBUs.
c) Higher Ground IPA: Birdsong's first high gravity offering, is a classic West Coast IPA style, with a hearty dose of Cascade hops to create a delicious citrusy flavor and aroma. We also include specialty crystal malts to give the beer it's unique caramel color and firm malt foundation. It's noticeable bitterness is balanced by a subtle caramel background to make for an easy drinking IPA. 7% ABV, 65 IBUs.
d) Up On The Sun Saison: This farmhouse ale is the color of the sun. Brewed with Sorachi Ace hops, our saison is incredibly refreshing and tart with a heavy dose of herbaceous and stone fruit aromas. It is dry and crisp on the palate with a blend of wheat flavor and pepper spice. We're only brewing this batch once for Spring, so come and get it while it's available. 7.5% ABV, 45 IBUs.
e) Free Will Jalepeno-Infused Pale Ale: Our Free Will Pale Ale.. with fresh Jalapenos added to give it a fresh, pepper flavor and this time we've included some of the seeds for a little heat! This is a limited release, so enjoy it while it's here.  5.5% ABV, 45 IBUs.
Kind Beers: this veteran Charlotte brewery has been producing beers since 2008, with a focus on simple and delicious beers. With 4 beers available, they're a delicious choice to pick-up from the store for a local selection!
a) Pale Ale, a stronger version of an American-Style Pale Ale, but brewed with an international blend of malts including British Maris Otter Pale Malt and specialty malts Belgian Aromatic as well as Crystal 60. It is smooth and at 7.3% alcohol by volume, this stalwart pale ale is brewed to be more robust than the standard American-Style Pale Ale. 
b) Belgian Style Red Ale pours a deep red and presents aromas of tropical fruit, citrus, and toasted malt.  It is brewed with a Belgian Trappist yeast, noble hops, and malt from Belgium and Germany.  Medium bodied and 6% abv, it is very drinkable yet still has complex flavors that only the right Belgian yeast can provide.
c) NEW: Imperial Pale Ale and Coffee Oatmeal Stout – these brews have just been released into the collection, and are sure to continue the Kind Beer experience even further!
Rock Bottom Brewery: Located in the heart of Uptown Charlotte, this restaurant & brewery is one of the few places that you can get food but not a Bud Light. It makes me so happy to see that, too! All of their beers are hand-crafted and are the only beers they offer. They do seasonal beers, as well, however those are in addition to a staple line-up of full-timers.
a) Southern Flyer Light Lager: Our lightest beer in color and body. Crisp and smooth, this low-calorie, low-carb lager is sure to go down easy. Hersbrucker hops provide a subtle balance. 3.6% ABV, 12 IBU.
b) Prospector's Pilsner: A refreshing golden hued European-style pilsner with a sublime Czech Saaz hop signature. 5.0% ABV, 32 IBU.
c) Stingin' Brits IPA: This classic copper colored ale has a pronounced hop aroma and assertive bitterness. American-grown Galena and Cascade hops are the star of this fragrant and citrusy dry-hopped masterpiece. 6% ABV, 55 IBU.
d) Sweet Magnolia American Brown Ale: British Crystal and Chocolate malts give this ale a medium body and rich, sweet aroma. Mount Hood hops add a spicy and floral nose. This smooth, malty brew was a Gold Medal winner in the American Brown Ale category at the 1998 Great American Beer Festival. 5.2 % ABV, 24 IBUs.
e) Iron Horse Stout: A four-time medal winner, this London-style sweet stout is bold, aggressive and deep black in color with a rich, roasted flavor from a generous addition of UK Chocolate malt and roasted barley. 5.7% ABV, 27 IBUs.
Triple C Brewing: this up-and-coming Southend Brewery is slated to open in Summer 2012! Cannot wait to see what this will bring!
Let me know if you've tried any of these, as I have had some but not the majority yet. Would love to hear what you think of these places, and which is your favorite!
Craft You Later,
Beth