Hello Beer Friends,
It's that time again, time for a review of some previously-never-tasted-by-yours-truly beers. I was out for dinner and decided that I didn't know what I wanted to try, as I had about 5 beers on my "hmm?" list, and then I realized that the place I was at offered beer flights!
Joyous, joyous day!
So, Mac's Speed Shop was the venue that made my beer day. This is a BBQ joint that I have long enjoyed frequenting for their delicious food, fun atmosphere, and great beer draft selection. Yes, they have PBR, but they also have some high-end craft beers as well. MMMM for everyone!
So for this outing, I tried the following beers in a 4 ounce pour each:
Jared's Smoked Peach Porter – New Belgium Brewing, Lips of Faith Series
Untappd: 3.54 Average Rating.
BeerAdvocate: 83 Score (Good).
This 8% ABV American Porter was definitely a little disappointing to me. I tasted way too much of the liquid smoke and tobacco flavors, neither of which are appealing to me, and not nearly enough of the peach flavor. I think anyone that likes those smoky flavors more than fruity flavors will enjoy this beer immensely, however… just wasn't for me, though I do love New Belgium's beers!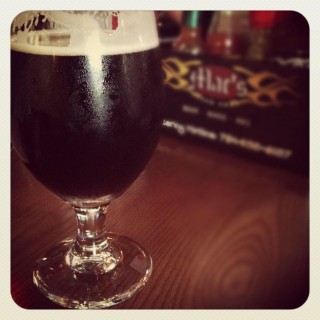 Beer Geek Breakfast – Mikkeller's Brewery
Untappd: 4.08 Average Rating.
Beer Advocate: 92 Score (Exceptional)
This 7.5% ABV Imperial Stout was a little lackluster in the oatmeal and chocolate flavors, but incredibly strong in the coffee department. The sips start a little bitter on the coffee front, then mellow out a little. I think a dollop of milk (juuust kidding) would have made me enjoy this coffee more as I drink coffee with cream, but anyone that likes black coffee will really enjoy this stout. Having had other Mikkeller offerings, Evil Twin to be precise, I look forward to trying more of their stuff soon!
Cerise – Founders Brewing
Untappd: 3.58 Average Rating
Beer Advocate: 83 (Good)
I. Loved. This. Beer. This is a 6.5% ABV fruit beer that has incredibly strong aromas and flavors of tart Michigan cherries (cerise is french for cherry, as your trivia fact for today), and is definitely a lighter beer than the previous two in how heavy they go down. Obviously. But still. I really enjoyed this after the harsher flavors of the prior two beers – especially with my barbeque chicken dinner. Something about tart cherries just goes straight to a Michigan girl's palate!
Marionberry Hibiscus Gose – Widmer Brothers Brewing
Untappd: 3.33 Average Rating
Beer Advocate: 80 (Good)
This was an incredible delightful surprise for me, who has never even heard of "Gose" beer before. This slightly sour, slightly malty 5.5% ABV wheat-style beer had lovely undertones of the hibiscus (flowery) that are balanced with the marionberry fruit (think like a blackberry) in both flavor and aroma. I am definitely intrigued by this style of beer and hope to find more producers of it to try a wider range. I definitely recommend this beer, though, on a warm summer night to cool you down!
Craft You Later,
Beth